SURIYA GURUMURTHY, VICE PRESIDENT OF ENTERPRISE APPLICATIONS & TECHNOLOGY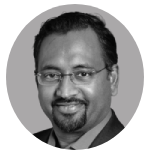 Over 25-plus years, Suriya helped mid to large-scale companies across industries like Hi-Tech, Utilities, Communications, Healthcare, and Medical Devices go through digital transformation with plenty of process standardization, automation, and M&A experiences. Suriya at HP established CRM at scale by leveraging the platform to manage the worth of a multi-billion dollar of pipeline within Salesforce and related Sales Forecasting, Commissions and Renewals, Quoting, and Pricing. He has taken the company through the Sales Transformation journey at a large scale with the help of a global workforce of hundreds across different parts of the world.

His primary focus has been enabling technology to achieve business KPIs and realize their return on investments with a clear focus on delivery, adoption, and change management of the systems & applications.