Lauren Williams-Elstein
Vice President of Channel Development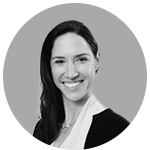 Lauren Williams-Elstein is the Vice President of Channel Development at PosiGen, where she is responsible for the strategic and operational direction of the company's channel partner business.
Lauren has dedicated her career to leveraging business and technology to create a more sustainable and just world. With deep experience in consumer financial services and renewable energy, she joined us directly from Mosaic. There, she served in leadership roles in Product & Sales Organizations, and also led their Energy Access and Inclusion efforts. She has a proven track record building high functioning teams, developing strategic relationships, and delivering products that delight customers. She is deeply passionate about building highly scalable, profitable, and impactful solutions to enable low- and moderate-income homeowners access clean energy and energy efficient home upgrades.
She received her MBA from Berkeley Haas School of Business and her BA from The University of Virginia.