Saluting Service: PosiGen's Commitment to Veterans on Veterans Day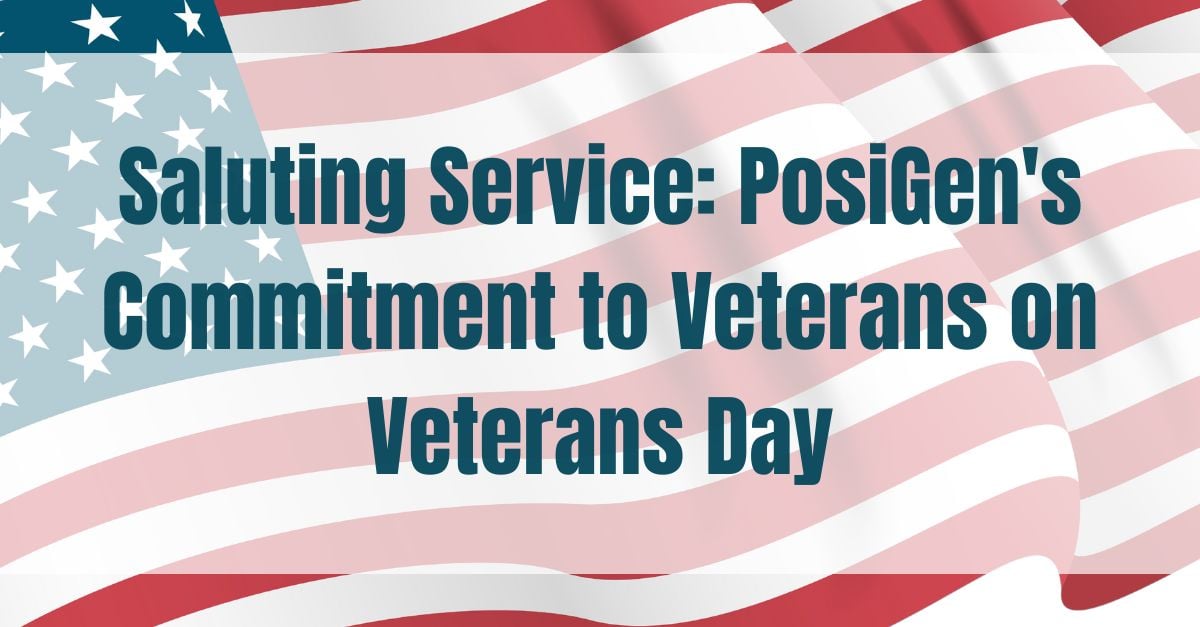 At PosiGen, our commitment to celebrating and recognizing the incredible contributions of our veterans goes beyond mere gestures—it's a daily affirmation of gratitude and respect. While Veterans Day holds special significance, we firmly believe in acknowledging our veterans every day. As the nation's leading residential solar and energy efficiency provider, PosiGen understands the immeasurable value of service, commitment, and dedication—traits that resonate strongly within our veteran employees.
This Veterans Day, we take pride in honoring the brave men and women who have served and continue to serve in the United States military, now as integral members of our staff. To commemorate their service, PosiGen is excited to announce the creation of a special video that highlights our current veterans and active-duty military members on staff. This video serves as a platform for our team to share their unique stories, experiences, and the valuable perspectives they bring to PosiGen.
However, our commitment doesn't stop at video production. PosiGen is dedicated to making a meaningful impact by contributing to the Wounded Warrior Project—a vital organization that provides support and services to wounded veterans. It's our way of giving back to those who have given so much to our country.
Why Veterans Make Exceptional Employees
The qualities that veterans bring to the workforce are unparalleled. Their military background instills discipline, adaptability, and unwavering commitment—traits highly valued by employers. Veterans excel at teamwork, quick problem-solving, and possess strong organizational skills, making them invaluable in any workplace. PosiGen proudly employs more than 13 veterans across various departments, a testament to our commitment to harnessing their dedication, extensive experience, and capacity to excel in dynamic and demanding work environments.
Addressing Financial Disparity Within the Veteran Community
Financial challenges within the veteran community are a pressing issue, with over 460,000 veterans allocating more than 50% of their income to rent. PosiGen, in partnership with various military outreach groups, is actively addressing this issue. We are dedicated to educating veterans about renewable energy and providing them with the tools to manage their energy costs more effectively.
Working closely with the members of the Alfred E. Flynn VFW Hall, PosiGen has extended a helping hand to veterans by offering educational initiatives, energy efficiency upgrades, and specially priced solutions tailored to their unique needs. Participants in these programs receive a $100 gift card, alleviating some of the financial burdens they face.
In a parallel endeavor, PosiGen has made a lasting impact on the Dover Family Housing community, Eagle Heights. In 2018, PosiGen took a pioneering role in designing and installing solar panels for 149 homes in this military-focused community. This initiative not only bolstered the community's energy sustainability but also supported the Air Force and Delaware in their pursuit of clean energy objectives and carbon footprint reduction. By aligning with the Department of Defense's energy conservation goals, PosiGen's efforts marked a significant step toward establishing enduring energy sustainability.
Through these comprehensive initiatives, PosiGen has empowered veterans and military personnel, like Navy Veteran Freddie, to overcome financial challenges, embrace renewable energy solutions, and actively contribute to a more sustainable future while improving their own quality of life.
Veterans in the Solar Industry and Careers in Solar Energy
The solar industry presents a promising career path for veterans seeking fulfilling post-military opportunities. With diverse job opportunities spanning installation, production, manufacturing, sales, and management, the solar industry provides an ideal platform for veterans to leverage their multifaceted skills.
Programs like Solar Ready Vets play a crucial role in supporting veterans' transition into the solar industry. This fellowship initiative offers transitioning service members top-notch solar training and employment prospects across various fields, including technical sales, system design, supply chain logistics, project development, operations, and installation. Initially launched as a pilot program by the U.S. Department of Energy (DOE) in 2014, it is now administered by the Interstate Renewable Energy Council (IREC) in collaboration with the U.S. Chamber of Commerce Foundation's "Hiring Our Heroes" program.
The 2021 National Solar Jobs Census highlighted the substantial presence of veterans in the solar industry, with over 20,000 veterans actively contributing to its growth. As the solar industry continues to expand, veterans are poised to take on increasingly prominent roles, drawing on their technical expertise, leadership abilities, and steadfast dedication to sustainability.
At PosiGen, we don't just celebrate our veterans on Veterans Day—we strive to create a workplace that values their contributions year-round. Our salute to veterans is not just through words; it's backed by tangible support, ongoing opportunities, and a commitment to ensuring that their service is recognized and rewarded.
The PosiGen Difference: A Deeper Dive
PosiGen's commitment to supporting veterans extends beyond one-time gestures and charitable contributions. We believe in creating a work environment that actively promotes the professional growth and well-being of our veteran employees. Let's take a deeper dive into how PosiGen is making a difference.
Professional Development Opportunities
Recognizing the unique skills and experiences veterans bring to the table, PosiGen is committed to providing ongoing professional development opportunities. Whether it's through specialized training programs, leadership workshops, or mentorship initiatives, we aim to empower veterans to reach new heights in their careers.
Inclusive Work Environment
PosiGen takes pride in fostering an inclusive work environment where every team member feels valued and respected. We recognize the importance of diversity in driving innovation and success. Our commitment to inclusivity is reflected in our diverse workforce, where veterans play a crucial role in shaping the culture of PosiGen.
Employee Support Programs
PosiGen understands that the transition from military to civilian life can pose unique challenges. To ease this transition, we have implemented employee support programs that cater specifically to the needs of veterans. From mentorship programs to counseling services, we strive to create a supportive network that helps veterans navigate the complexities of both work and personal life.
Additionally, PosiGen is actively involved in community outreach programs that aim to address the broader challenges faced by veterans. By partnering with local organizations and government agencies, we contribute to initiatives that provide housing, healthcare, and educational opportunities for veterans in need.
Innovation in Solar Technology
As a leader in the solar industry, PosiGen is at the forefront of innovation in solar technology. We believe in harnessing the power of renewable energy to create a sustainable future. Veterans at PosiGen contribute significantly to this mission, bringing their problem-solving skills and technical expertise to drive advancements in solar technology.
Our commitment to innovation is evident in the continuous research and development initiatives undertaken by our team. By staying at the cutting edge of solar technology, PosiGen ensures that veterans have the opportunity to work on groundbreaking projects that contribute to a greener and more sustainable world.
PosiGen's Impact Beyond Veterans Day
While Veterans Day serves as a focal point for honoring and celebrating our veterans, PosiGen's impact extends far beyond this singular day. Our commitment to veterans is ingrained in the core values of our company, influencing every aspect of our operations.
PosiGen's dedication to veterans is not a standalone initiative; it is an integral part of our corporate identity. As we continue to lead the way in residential solar and energy efficiency, we are proud to have veterans at the forefront, shaping the future of sustainable energy and making a lasting impact in the solar industry.