Is the PosiGen Solar Lease Program Efficient?
It's a vicious cycle: solar energy could help millions of low-to-middle income Americans save money, but they can't access solar energy because, in the past, they didn't save enough money.
For many homeowners, purchasing solar panels isn't an option. They don't have substantial savings. Even if they did, they might be reluctant to make an investment that will take years to begin paying off.
If you have an excellent credit score or above-average monthly income, plenty of solar providers are willing to make you an offer. It's the people who don't have a great credit history or a lot of extra income, however, who stand to benefit the most from the potential savings a solar system could provide. Ironically, it's these people that many solar companies will disqualify.
With PosiGen, that changes today! Our company was founded with a mission to bring solar for all, and that's exactly what we're doing. We don't care about your credit score, monthly income, or employment status. If solar can work for your home, we will make it work. And it won't come at the cost of quality.
High-Quality Panels for High Quantity Savings
With a PosiGen solar lease, you'll be getting high-quality solar panels. Installation, system monitoring, and maintenance are all included in our fixed monthly rate. We also throw in free energy efficiency upgrades to make your home as efficient as possible!
How We Make it Work
When we founded the company with the aim to bring solar for all, we needed more than just a good intention. We needed to make it work economically. So that's what we did.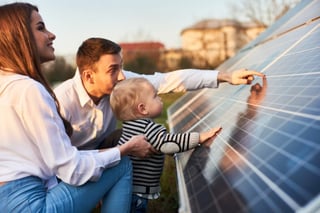 With a little help from math and some physics, our engineers can calculate the potential for solar savings on any home. We consider everything: the layout, weather conditions, and the exposure of the rooftop to the sun rays to estimate how much solar energy could be produced. We then look at the historical energy consumption and electricity spending for the home, and we calculate exactly how much you could be saving with solar.
If a solar system can produce enough energy to save on your monthly electricity costs, we will make you an offer. Regardless of your credit score, monthly income, or your position in the dogs versus cats debate. If solar can work for you, it can work for us.
Pay Nothing Now, And Less Later
With the PosiGen solar lease, you don't start paying until you start saving. Everything we've mentioned so far, from the feasibility analysis to the solar system installation is covered by PosiGen. We do all the work and cover the installation expenses.
When your solar panels start to produce energy, you start receiving a monthly bill for a fixed amount for the duration of the lease. No price increases for 20 years! How many services do you know that come with that kind of promise?
As part of your Posigen proposal, you will receive production estimates for the duration of your lease and a first-year savings guarantee. You can rest easy, knowing that you'll start saving immediately and those savings will continue for years to come. Keep your home warm in the winter and cool in the summer without dreading what your next utility bill will look like.
Could the PosiGen Solar Lease Program Work For You?
Find out today! Speak with our team members and ask them anything you can think of about our solar program. They will be happy to answer all of your questions.
We will schedule a free solar demonstration and give you more specifics about how solar could work for your home, including how much energy you could be producing, and how much money you could be saving.
All consultations and demonstrations are completely free of charge and require no commitment on your end. You have nothing to lose and 20 years of solar savings to gain.