How to Save on Electricity with Hassle-Free Solar
Installing a solar system for your home can be a challenge without the right solar partner. You have to think about paperwork, installation, hooking it up to the grid, coordinating contractors and service work — it can be a headache! What if you can't afford to take time off work to gather the necessary documentation or schedule and coordinate the installation efforts? The good news is that with PosiGen, you don't have to.
From the pre-feasibility analysis to maintenance and efficiency improvements, we work hard so you don't need to lift a finger. Let's explore — step by step — the simple, hassle-free process of installing solar the PosiGen way.
Making Solar as Easy as One, Two, Three
They say that to become an expert at something you need to do it 10,000 times. PosiGen has that figure beat — we've already installed solar panels on over 22,000 homes! We know the ins and outs of the industry, which means we'll be your partner every step of the way.
One: No Commitment Home Evaluation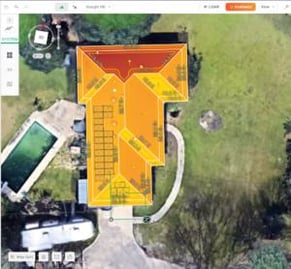 Here's an industry secret: not every home is a great fit for solar. Maybe your electricity bills are already as low as they can go. Maybe your roof won't get enough sunlight to produce a good amount of solar power. Whatever the reason, you don't want to go with a solar company that's going to push a one-size-fits-all answer.
To take the risk out of the equation, our solar experts run a free pre-feasibility study. We analyze every aspect, from your historical electricity spending to the layout of your roof and its exposure to the sun's rays. If your home isn't fit to save with solar, we'll let you know before the process goes any further.
If the roof and home structure can support solar, you will learn how solar can be a great way to power your home and reduce your energy costs! We'll provide you with energy production estimates for the duration of your solar lease. Your PosiGen solar specialist will also outline the include, no-cost full home energy efficiency audit process that goes hand-in-hand with PosiGen solar. On top of all that, we make sure you can have even more peace of mind with a first-year savings guarantee of $600.
Why do we do this? Our goal is to show you just how much you can save with solar power and an energy-efficient home. If you're not happy with our proposal, you've made no commitment to proceed.
Two: Step-by-Step Assistance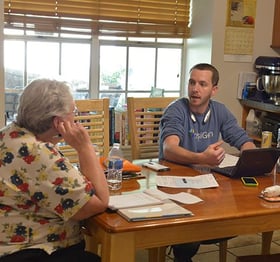 So you have your proposal and you've decided that you're ready to go solar. Great!
Unfortunately, this does not automatically mean that your home is ready for installation. First, you need the proper permits and approvals from local and state authorities.
Sounds like a lot of work, doesn't it? It might be — if PosiGen wasn't there to handle the entire process for you. We'll take care of the paperwork so you can focus on the really important things.
Three: Best-in-Class-Class Installation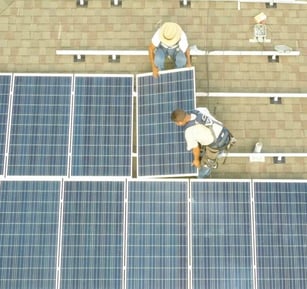 Once we have all of the necessary approvals, it's time to install your system so you can start saving. PosiGen will coordinate with you to plan, schedule, and complete all installation efforts to guarantee maximum efficiency for your new solar system with as little disruption to your life as possible. We'll do all the heavy lifting — you just enjoy the savings.
But Wait, There's More!
Some solar companies will install your panels and then leave you to figure out the rest for yourself. PosiGen is different; we serve as a partner to help you save on your energy bills for years to come. After the installation is complete, we'll provide additional services to help you make the most of your new solar system.
Free Energy Efficiency Upgrades
PosiGen offers you a Savings Guarantee for the first year with solar. But we want to do more to guarantee you'll see significant savings. That's why our process includes energy efficiency improvements for your home. That may not sound like a big deal until you look at the numbers — fixing issues as simple as air leaks can save you anywhere from 5 to 30 percent on your electricity consumption. A few simple improvements can lead to a huge payoff over time, and as your energy efficiency partners, we'll help you make those upgrades at no cost.
Maintenance for the Duration of Your Lease
Like any other improvement to your home, your solar system will require maintenance to ensure things keep running smoothly and efficiently. That is why maintenance is included for the duration of your 25-year lease. You can rest easy knowing that if a problem arises, PosiGen will be there to help.
Savings You Can Depend On
Once your system is up and running, what do savings look like? You'll start receiving two bills each month:
Your regular energy bill from your utility company
A fixed monthly bill for solar
An extra bill might not sound like a good thing, but you should notice that the decrease in your power bill is greater than what you pay for solar, meaning you'll see savings overall. Not only that, but your solar bill will never increase over the lifetime of your lease. While energy prices from your utility company may rise over time, you'll never pay more for the energy generated on your roof.
You Ask, We Answer
Every homeowner is different. That makes every home different, too. You know that solar energy works, but how can you know if it can work for you, your home, and your budget?
That's why we're here. The PosiGen solar experts are available for a free consultation. Just reach out, and we'll be happy to schedule a call to answer all of your questions.
We can even schedule a free demo with our Residential Energy Specialists and give you precise estimates of how much you could save with solar based on the specifics of your home.
Is solar a good fit for you? All you have to do is ask.