PosiGen is proud to call Louisiana home. Born amidst the rebuilding from Hurricane Katrina, our goal is to help our neighbors reduce energy costs and help the environment. PosiGen is committed to providing affordable, high-quality solar panels. With offices in New Orleans and Baton Rouge, we strive to make solar savings achievable for all Gulf South Region homeowners.
The Gulf South's Source for Reliable Solar
(Including Louisiana and Mississippi)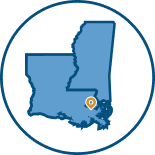 New Orleans & Mississippi
145 James Drive E, 3rd Floor, St. Rose, LA 70087
(504) 264-9700
M-F 9AM-5PM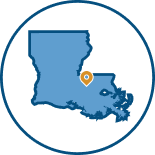 Baton Rouge, LA
10935 Perkins Road, Suite C Baton Rouge, LA 70810
(225) 320-2650
M-F 9AM-5PM
Recent Solar Purchase Incentives
Louisiana: Home Energy Loan Program (HELP)
Loan Option Through the HELP program, a homeowner can obtain a five year loan to improve the energy efficiency of their existing home. "HELP loans function as standard unsecured underwritten residential loans.
Mississippi: Net Metering
On December 2015, the Mississippi Public Service Commission (PSC) established a method to compensate and incentivize behind-the-meter electricity generation in the state. The rule requires all the investor-owned electric utilities* in the state to allow their customers to own or lease distributed energy resources to offset their electricity use on-site and any sell excess electricity to the utilities.
Manage Energy Costs & Help the Planet With PosiGen
PosiGen is dedicated to helping our Gulf South customers reduce their energy costs (and their carbon footprints!) through our energy-saving solutions. Explore our services to find the right fit for you and your home.
Gulf South Customers Saving with Solar
"I was very interested in [solar] because I knew solar panels were going to help me, and this is futuristic. I'm saving money. I did not expect the additional upgrades. We were told that certain things would be done but this is — to me — beyond the call of duty and I'm very appreciative of it because I know it will add to the savings."
Rosalind C.
"[What] I'm saving on my energy is my vacation money. My wife can go shopping a little bit more, we can go and do a little other things. I can do a little bit more things around the house, I can help my daughter out [too]. It almost helps you get financial freedom. It also helps our city, our climate, everything that's trying to go green in order to help our atmosphere, our planet."
Kevin H.
"Without the leasing program, I probably would not have gotten any solar panels. I should be able to see a direct savings on my bill…and the energy efficiency added to it is really good too. So you cut back on your energy and you save some money."
Customer Name
Crystal V.
PosiGen in Gulf South News
Schedule a Consultation Today
No Obligation, No Upfront Cost