Empowering Communities: PosiGen Honors Global Energy Independence Day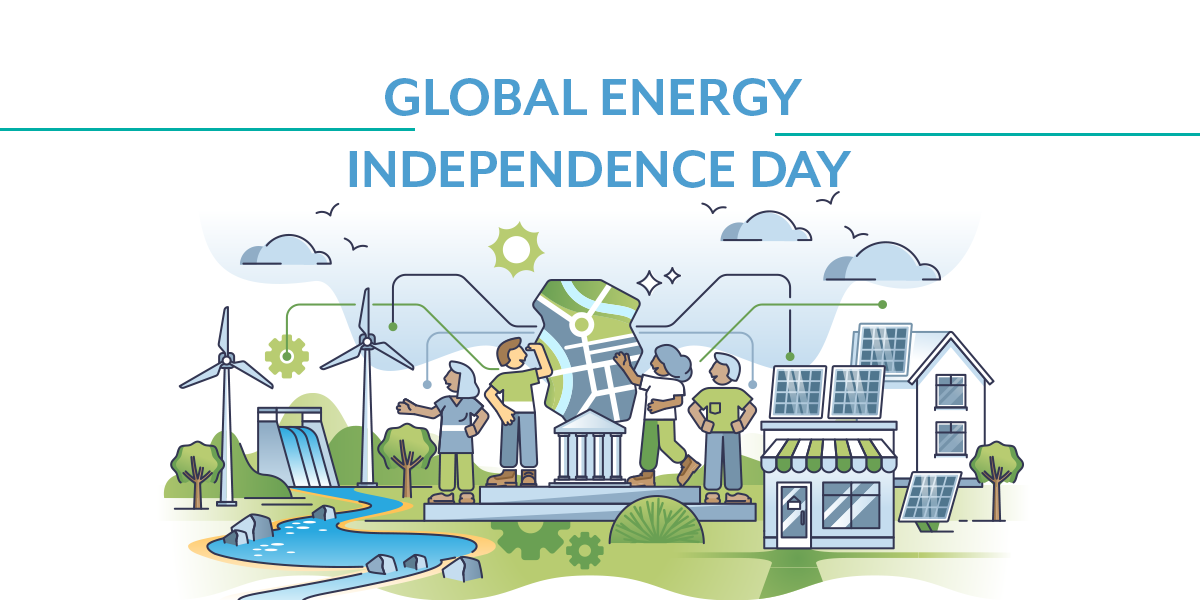 Global Independence Day serves as a reminder of the power of resilience and innovation in the face of adversity. On this occasion, we celebrate the remarkable journey of PosiGen Solar Energy, a company that emerged from the aftermath of Hurricane Katrina with a mission to provide solar energy to homeowners, regardless of income. PosiGen's groundbreaking approach has brought solar and energy independence to under-resourced communities worldwide, transforming lives and creating a more equitable future.
The Challenge: High Energy Burdens on Households with Income Uncertainty
Research has highlighted the disproportionate impact of high energy costs on households with income uncertainty, particularly those from Black, Hispanic, or Native American communities. The American Council for an Energy-Efficient Economy (ACEEE) reveals that 1 in 4 economically challenged households struggle to pay their electricity bills, often at the expense of other essential needs such as healthcare and medication. These households face energy burdens up to 45% higher than their White, Non-Hispanic counterparts, exacerbating economic disparities and limiting opportunities for upward mobility.
Barriers to Solar Adoption in Under-Resourced Communities
While solar panels offer substantial long-term savings of $20,000 to $75,000 over their lifespan, under-resourced households face several barriers that impede their access to this renewable energy source. Key obstacles identified by the National Renewable Energy Laboratory (NREL) include:
Lack of Capital: Upfront costs associated with solar installations pose a significant financial challenge for many homeowners in under-resourced communities.
Tax Burden: Homeowners often lack the necessary income to benefit from tax credits, which can offset the cost of solar installations.
Limited Awareness: Many economically disadvantaged households are unfamiliar with solar energy products and the potential savings they can offer.
PosiGen's Solution: Solar For All
PosiGen Solar Energy has taken up the mantle of providing affordable solar energy savings to all homeowners, with a particular focus on under-resourced households. By offering a unique solar lease product, PosiGen has pioneered a path to energy independence for those historically ignored by the solar community and underserved by traditional energy efficiency programs.
PosiGen's solar lease program eliminates the need for upfront costs, credit score checks, and income requirements, making solar accessible to a broader population. Homeowners are approved based on homeownership and utility usage history rather than financial parameters, ensuring that solar benefits are not restricted to a privileged few.
Through a 25-year solar lease, PosiGen provides not only solar energy solutions but also energy efficiency upgrades for all eligible homeowners. This comprehensive approach addresses the need for both clean energy and reduced energy consumption, resulting in significant savings for homeowners in under-resourced communities.
PosiGen's Community Outreach and Education
PosiGen's Community Partnerships team plays a vital role in educating underserved homeowners about the benefits of solar energy. By forming alliances with non-profit organizations and participating in community events, PosiGen ensures that its message reaches the intended audience. The team conducts home energy audits to identify areas of inefficiency and offers personalized energy reports with recommended remediations. These audits empower homeowners to save energy, reduce costs, and enhance their overall comfort.
Results and Impact
PosiGen's commitment to solar energy and energy efficiency has made a profound impact on under-resourced communities. With over 22,000 installations completed and 45,000+ kWh saved per customer, PosiGen has contributed to a total energy savings of over 750,000,000 kWh. These significant numbers represent not only financial savings but also a reduction in greenhouse gas emissions and a step towards a more sustainable future.
Looking Ahead
PosiGen continues to expand its solar leasing program, aiming to bring solar energy and energy independence to more communities across the United States. By eliminating financial barriers, raising awareness, and prioritizing energy efficiency, PosiGen is empowering under-resourced communities and fostering a more equitable energy landscape.

On Global Independence Day, we celebrate PosiGen Solar Energy's remarkable journey and its unwavering commitment to providing solar energy to under-resourced communities. By tackling the financial obstacles associated with solar adoption and emphasizing energy efficiency, PosiGen is driving positive change and creating a more sustainable future for all. As we commemorate this day, let us support and champion the efforts of organizations like PosiGen that strive to empower communities and ensure that solar energy truly becomes a solution accessible to all.